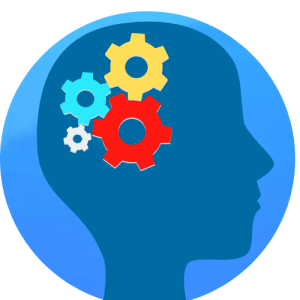 The Importance of Sleep in Maintaining Mental Health
*Note: Links to the articles are provided for your reference.  The required reading for the CEU is contained within this page Click HERE to go to the CEU course.

Impaired sleep is both a risk factor and a symptom of depression. Patients with depression show characteristic sleep-EEG changes [8,9,10] including impaired sleep continuity, disinhibition of REM sleep, changes in non-REM sleep and reduced slow wave sleep. Shortened REM latency is associated with multiple psychiatric disorders including depression, mania, schizophrenia, schizoaffective disorder, obsessive-compulsive disorder, panic disorder, and eating disorders. For people without current depression it is important to be aware of risk factors.  Menopause is the major turning point in sleep quality in women. In male subjects, however, sleep quality declines continuously during aging. In patients with depression, age and illness exert a synergistic effect on sleep EEG.
More information about improving sleep and mental health can be found in this video; however, it is not required viewing for the CEU. Watch Video
Sleep Hygiene
Create a wind-down ritual
Identify 3 things will you do each night that will "cue" your body it is bedtime? (Hint: We do this with small children by feeding them about the same time, giving them a bath then reading a story)
Reduce or eliminate exposure to blue-light 1 hour before bed (TV, Computer, Phone, some light bulbs).  You can either turn them off or get a blue light filter for them
Go to bed at roughly the same time every night
Eliminate as much light as possible.  Even a full moon shining through your window can keep you from getting deep sleep (Sleep mask)
Eliminate as much noise as possible (Ear plugs)
Do not exercise or take a hot bath within 2 hours of bed.  Your body needs to be cool to sleep.
Keep the room cool (72 is ideal)
Consider a cooling pillow and mattress topper.
Avoid anything that might get you upset (Social media, news, email)
Reduce or eliminate caffeine at least 6 (preferably 12) hours before bed
Drink the majority of fluids during the day so you don't have to get up in the middle of the night.
Keep an air purifier in the room if you have allergies
Keep animals off the bed
Make the bedroom a place of relaxation and sleep
Keep a red-light and a notepad by your bed to write down anything that pops into your head
Weighted blankets help some people get to sleep easier
Keep daytime naps to under 45 minutes to avoid messing up your circadian rhythm.
Consider diffusing essential oils
Select the right pillow to minimize neck strain
Click HERE to go to the class to get your CEU.
Current Podcast Episodes
Click on the image to go to each podcast page.  (CEUs are available for each episode)
Upcoming Webinars
Register at AllCEUs.com/Webinar
10-1-2019 LIVE Intuitive Eating Basics and Benefits
10-3-2019 LIVE Addressing Transition Issues in High School and College Students
10-8-2019 LIVE Overview of the PACER Method and Transdiagnostic Assessment
10-10-2019 LIVE Animal Assisted Therapy Uses and Benefits
10-15-2019 LIVE Mind-Body Connection: How Health, Thoughts, Feelings and Behaviors Interact
10-17-2019 LIVE Impact of Social Media on Mental Health
10-22-2019 LIVE Pain: Biopsychosocial Impact and Strategies for Prevention and Intervention
10-24-2019 LIVE Case Study: Anxiety Assessment and Intervention with the PACER Method
10-29-2019 LIVE Chronic Health Conditions: Biopsychosocial Impact and Interventions
10-31-2019 LIVE Case Study: Depression Assessment and Intervention with the PACER Method
11-05-2019 LIVE Biopsychosocial Impact of Hormone Imbalances and Strategies for Prevention
11-07-2019 LIVECase Study: Addiction Assessment and Intervention with the PACER Method
11-12-2019 LIVE Biopsychosocial Aspects of HPA-Axis Dysfunction and Strategies for Intervention
11-14-2019 LIVE Case Study: Adjustment Disorder Assessment and Intervention with the PACER Method
11-19-2019 LIVE Biopsychosocial Impact of Sleep Disturbance and Strategies for Prevention and Intervention
11-21-2019 LIVE Case Study: PTSD Assessment and Intervention with the PACER Method
11-25-2019 MONDAY LIVE Biopsychosocial Impact of Malnutrition and Strategies for Intervention and Prevention
11-26-2019 TUESDAY LIVE Relationship Insecurities: Causes, Consequences and Interventions
12-3-2019 LIVE Biopsychosocial Impact of Gut Health
12-5-2019 LIVE Post Stroke Psychosocial Issues
12-10-2019 LIVE Biopsychosocial Impact of Happiness and Strategies for Enhancement
12-12-2019 LIVE Addressing FOMO and Other Millenial Issues
12-17-2019 LIVE Biopsychosocial Impact of Anxiety and Strategies for Prevention and Intervention
12-19-2019 LIVE Attachment Theory and Adult Relationships*
12-23-2019 MONDAY (Christmas Week) LIVE Biopsychosocial Impact of Stress and Strategies for Prevention and Intervention
12-27-2019 FRIDAY (Christmas Week) LIVE Goal Setting*
12-30-2019 MONDAY (New Years Week) LIVE Anger, irritation and resentment (Clear the AIR)