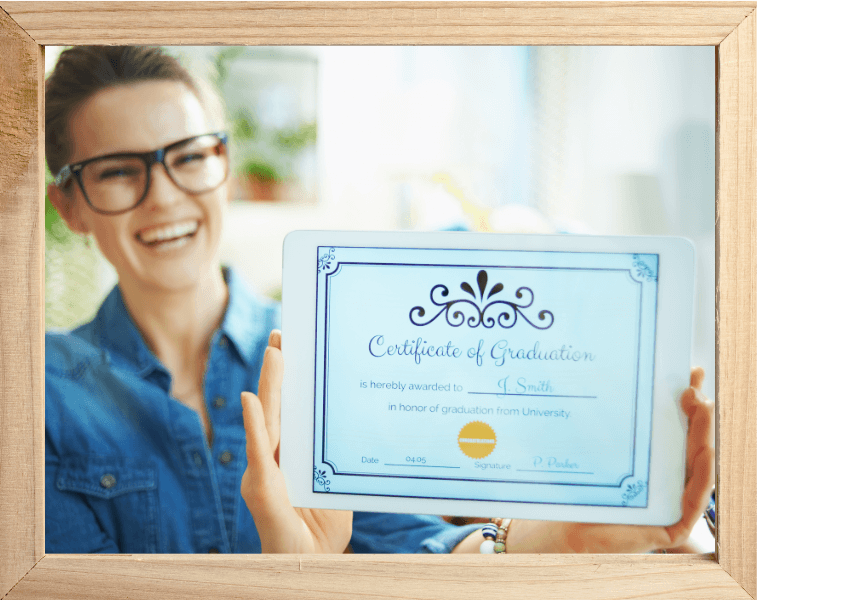 Certificate Training & Master Classes
As the field of counseling grows, it also becomes more specialized.  We recognize the need for clinicians to have access to advanced training, not only to provide the highest quality of care, but also to maintain an edge in the job market.  We have a variety of certificate training programs available, and are in the process of adding more. The specialty certificate programs combine a series of unique, specialized classes to provide the necessary academic training to work with a particular population or disorder.  Consult your local addictions counselor certification board about additional requirements to become board certified. (Note: If you are already certified or licensed in another discipline, these courses may count toward your CEUs.  Check our approval page to ensure our courses meet the requirements of your state boards.
Our certificate training/masterclass programs are designed to provide in-depth training on particular topics. Each certificate training/masterclass track is self-paced using written materials and on-demand video.  Instructors are available 7-days a week via email for questions.  You can use these trainings toward certification or licensure with many state certification boards. (Check with your state certification board to see what certifications they offer).

Additional Certificate Training Tracks
Behavioral Health Technician Certificate Training (30-Hours/$99) This training program prepares you for earning your entry-level credential to assist primary counselors and therapeutic staff by providing clinical support services to adults or children who are receiving substance abuse or mental health services in residential programs, in-patient settings or community based programs. The guidelines we have used are based on those set forth by the Florida Certification Board.  If you state requires additional self-study courses, we are happy to add those free of charge.  Learn More   Buy Now
Criminal Justice Counselor Training (270 Hours -$149) Learn more about criminogenic thinking and special challenges facing those recently released from incarceration.  This track is designed to provide the academic training required to become a CCJP.   Learn More  Buy Now
Peer Recovery Coach Training (Georgia) (100 Hours -$149) Peer recovery is experiencing rapid growth, whether it is provided by a peer recovery coach, peer recovery support specialist, or peer recovery mentor. Peer support services – advocating, mentoring, educating, and navigating systems – are becoming an important component in recovery oriented systems of care. Credentialing provides much-needed standardization to the rapidly growing profession of peer recovery support.  This training is specially tailored to meet the needs of persons in recovery wanting to become certified as Recovery Coaches through ADACB-GA.  Learn More  Buy Now
Peer Recovery Specialist Training (40 Hours / $99) This training program is for an entry level certificate for persons in recovery who are wanting to get into the field of  counseling.  Each state is able to set it's own unique requirements, but we have done our best to cover everything you would need.  If you state requires additional self-study courses, we are happy to add those free of charge, just send an email to support.   Learn More About Georgia      Buy Now
Tobacco Treatment Specialist (40 Hours $99)  The Tobacco Treatment Specialist is designed around the Certified Tobacco Treatment Specialist requirements of the Florida Certification Board and based on the objectives set forth by the Association for the Treatment of Tobacco Use and Dependence (ATTUD). Topics include:  Health Education: 3 hours; Assessment and Referral: 3 hours; Treatment Planning and Counseling: 16 hours; Professional Responsibility: 6 hours; Electives: 12 hours. Buy Now
Remember to make sure your state accepts our online training.  AllCEUs is a NAADAC approved education provider and approved by multiple state licensing boards.
Please remember that a certifiCATE program provides verification that you have completed a certain course of advanced study. They do not expire.   CertifiCATIONS on the other hand are programs that are usually run by your state, require academic training, an internship, passing of an exam, ongoing continuing education. and annual or biennial renewal.
If you are taking these trainings to qualify for certificaTION in your state (which most of you probably are) remember to ensure your state accepts our trainings by  checking our
approvals page
Why is Certification Important?
Certification is based largely on competence derived from knowledge of, and experience in working with, alcoholism and other drug abuse rather than reliance on academic achievement alone. The authority for this certification comes from professionals working in the field of alcohol and drug abuse who share a common concern for development of standards of competence. This credentialing will be available to any person who meets or exceeds the standards for any of the categories in which certification is offered.
For the public:
Enhances public recognition for the treatment needs of persons with alcohol and other drug abuse problems, and the value of specialized professional counseling and help
Helps in identifying qualified service providers
Increases confidence in service providers
For the certificants:
Recognition by a third party
Enhances competence and effectiveness
Enhances professional reputation
Supports continued professional development
Demonstrates a high level of commitment to the field of practice
Demonstrates a certain level of knowledge and skill
Increases opportunities for career advancement and/or increased earnings
Increases and/or validates skills and knowledge
Meets employer or governmental requirements
For employers:
Enable third party payments
Improved customer satisfaction
Increased competence level of employees
Used in making employment decisions
Provides professional development opportunities for employees
Ongoing enhancement of knowledge and skills
Increased confidence in employees abilities
Demonstrates employers commitment to competence
Provides compliance with industry regulation or government requirements