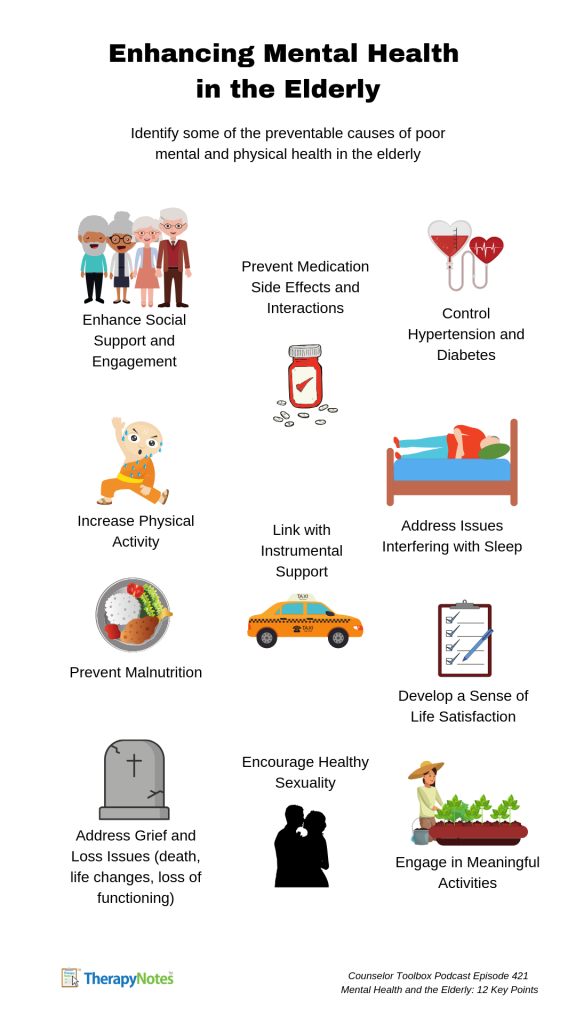 There are 12 key issues which may impair mood, health and relationships that often go overlooked in the elderly, including psychosocial adjustment to aging, depression and anxiety, cognitive decline, chronic health conditions, altered response to medications and medication side effects, sexuality, malnutrition, impaired sleep, altered social support systems and networks, reduced perceived quality of life/life satisfaction and more.  
Depression and insomnia are not normal responses to the aging process.  Not only can they be addressed  or prevented, failing to mitigate these issues leads to additional health problems including frailty syndrome and cognitive decline. (Learn how to prevent as many as 35% of dementia cases in Dementia Case Management)
Malnutrition impairs the body's ability to maintain neurotransmitter balance and increases HPA-axis activation and cortisol levels in response to the stress.
Many chronic health conditions may impair mood, energy levels or sleep due to causing chronic pain or as a result of the medications used to treat the condition.  Managing chronic condition such as arthritis, high blood pressure or diabetes effectively can prevent these complications and improve quality of life.
Practical and emotional social support are also essential to the mental health of the older adult, especially after retirement or significant life changes.
Learn more tools to help older adults maintain their health and vitality in Counselor Toolbox podcast episode 421 Mental Health and the Elderly: 12 Key Points, available on any podcast player app or online.